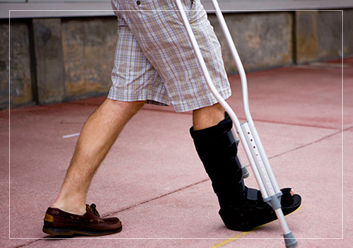 Successful recovery from a broken ankle comes at a PRICE – Here we are referring to the acronym which stands for Protection, Rest, Icing, Compression, & Elevation. Let's look at these 5 components in greater detail to understand why they are an essential part of the healing process.


Protection: Depending on the severity of the fracture and the amount of swelling in the area, a splint or cast may be applied by your doctor. They protect and support the ankle as well as immobilize and approximate the fractured ends of bone to ensure complete healing in the appropriate alignment.


Rest: Initially, your body requires rest to recuperate from the fracture. To restore pain free ankle function, follow your doctor's instructions regarding when and how to begin weightbearing. You may have to use crutches or a walker initially to keep the weight off your ankle, slowly transitioning to a rigid boot, and finally to normal footwear. The key is to gradually increase activities as tolerated to avoid reinjury.


Icing: Placing an ice pack over the ankle helps reduce swelling and decrease pain by numbing the nerve endings in the area. If the ankle is in a cast, wrap the ice pack loosely in a towel to avoid getting the cast wet.


Compression: You may be recommended to use compression wraps or ankle braces for few months after healing of the fracture to minimize swelling and provide temporary support for the ankle as you progress through rehabilitation to improve strength and flexibility.


Elevation: For the first 2 weeks after treatment, try to keep your ankle elevated above the level of your heart while sitting and lying down. This helps minimize swelling and discomfort in the ankle.



The usual time required for full recovery will be about 3 months for a stable fracture that does not require surgery, and up to 9 months or longer for an unstable fracture. By following the tips mentioned above as well as any specific instructions provided by your doctor, you should be able to reach pre-injury ankle function levels sooner rather than later.
Dr. Bryant S. Ho is board-certified in orthopaedic surgery and received comprehensive training in the operative and non-operative management of adolescent and adult foot and ankle disorders. He is highly active in both clinical and biomechanical research, and has published numerous articles and book chapters on orthopaedic foot and ankle care. Dr. Ho treats all disorders of the foot and ankle including arthritis, tendon ruptures, foot and ankle deformities, acute trauma and fractures, repair of non-unions, total ankle replacements and repair of cartilage lesions. Contact Dr. Ho for a consultation today.