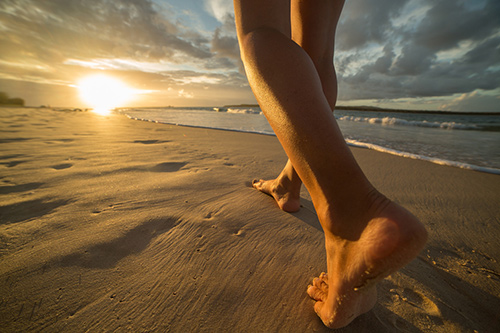 As the sun continues to shine brightly during the summer, let's look at the benefits of vitamin D, a.k.a. "The Sunshine Vitamin", for your bone health.
Vitamin D helps your body absorb calcium from the food you consume. About 99% of the absorbed calcium is stored in your bones and teeth with the remaining 1% being stored in body fluids. Calcium is necessary for mineralization of bones to make them strong, but it has many other important functions as well. It plays an important role in blood clotting, transmission of nerve signals, muscle contraction, and maintaining stability of cell membranes.
If your body isn't able to absorb enough calcium from food due to lack of vitamin D, it is forced to leach calcium out of your bones causing them to become brittle. Over time, this could result in loss of bone mass and osteoporosis. In children, lack of vitamin D can result in rickets, which is a medical condition characterized by bowed legs, stooped posture, and other bone deformities.
Having low Vitamin D levels is a lot more common than many people realize. Studies show that up to 42% of the general population is low in Vitamin D.
Vitamin D can be obtained from foods such as oily fish, eggs, fortified milk and breakfast cereal, but the sun remains the #1 source for vitamin D supplying more than 90% of the body's needs.
Soaking up the sun in the summer can help boost Vitamin D levels. However, don't overdo it, or you could increase your risk for skin cancer due to harmful effects of the sun's UV rays. About 15-30 minutes of sunlight exposure in the form of moderate outdoor physical activity every day is all you need to keep your bones healthy and strong.
Alternatively, you can consider Vitamin D supplementation, which is easily available over the counter. Adding a Vitamin D supplement to a daily multivitamin is an easy way to prevent Vitamin D deficiency, which can decrease the risk of injuries such as broken bones.
Dr. Ho is a foot and ankle orthopedic specialist who places a strong emphasis on customizing his care for each patient to ensure successful outcomes. He provides all treatment options including preventative care, conservative management and operative intervention.