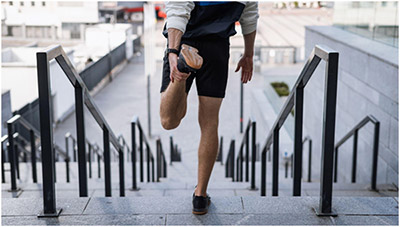 Did you know that improper footwear can cause significant damage to your foot and ankle? Most sports and physical activities put a lot of stress on your feet and ankles, especially when running and jumping are involved. If you are an athlete or a weekend warrior, it is important to wear the proper footwear when playing a sport.
Athletic shoes are designed to protect your feet, enhance your performance, and provide comfort. But different types of athletic shoes are recommended based on your specific sport or physical activity. It is important to do research and know whether running shoes, court shoes, cleats, or hiking shoes are best for you. If you regularly engage in more than one sport, a cross-training shoe may also be an option. Knowing what shoes to wear can be critical to your performance and likelihood of injury.
Here are some benefits of wearing proper athletic footwear:
Better performance
Increased arch support
Reinforced comfort
Reduced likelihood of injury
Enhanced motor control
Greater stability
Breathability
More traction
There are many benefits athletic shoes provide that other shoes may not. Improper footwear can result in swelling, redness, sores, blisters, calluses, tendonitis, stress fractures, plantar fasciitis, and pain in your feet or ankles. You should avoid wearing shoes that are heeled, flat, open-toed, pointed, or narrow. These shoes will constrict your feet, harm your foot arch, and increase the probability of injury.
If you have found yourself in the wrong shoes and are experiencing foot or ankle pain, contact Dr. Ho for expert advice today!
Dr. Bryant S. Ho is board-certified in orthopedic surgery and is trained in the operative and non-operative management of adolescent and adult foot and ankle disorders. Dr. Ho places a strong emphasis on customizing his care for each patient to ensure successful outcomes. He provides all treatment options, including preventative care, conservative management, and operative intervention.