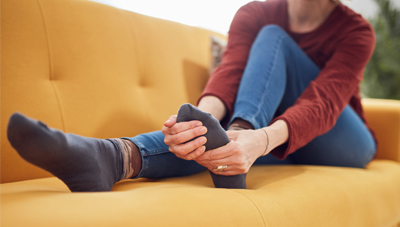 Everyone experiences stress at some point in their lives. Stress can be caused by unpleasant experiences or pressures resulting in a negative emotional state. But did you know that stress can also impact your physical health, specifically your feet? Stress hormones circulate throughout your entire body, activating different organ systems to respond to the stressful stimulus. This stress response can result in pain, joint stiffness, and tingling sensations in your feet.
When you're stressed, muscle tension throughout your body increases, even in your feet. High muscle tension can result in stiff joints and decreased flexibility in your feet. Stiffness in your ankle and foot joints contributes to weakness and the potential of injuries such as plantar fasciitis or Achilles tendonitis.
Painful tingling or burning sensations in your feet can also develop from stress. When you are stressed, blood and oxygen rush away from the feet to other vital organs in the body. This can contribute to a painful numbness in your feet that may present as burning or cold feet.
Additionally, when you are stressed you become hyper-aware of your surroundings and your own body. This can draw attention to your feet as you walk which may feel unnatural when you are consciously aware of it. This strange, sometimes painful, feeling can encourage an improper gait that may be more comfortable but can contribute to potential injury.
If you find yourself suffering from foot problems, contact Dr. Bryant Ho to determine the cause and to discuss treatment options today!
Dr. Bryant S. Ho is board-certified in orthopedic surgery and is trained in the operative and non-operative management of adolescent and adult foot and ankle disorders. Dr. Ho places a strong emphasis on customizing his care for each patient to ensure successful outcomes. He provides all treatment options, including preventative care, conservative management, and operative intervention.