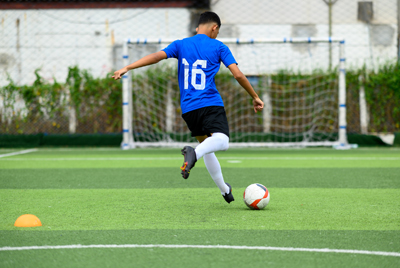 Back to school is here! With the kids back in the classroom, they're also getting back on the fields or courts as fall sports pick back up. If your child is active in youth sports or any physical activity, it is essential to stay aware of the type of foot and ankle injuries they can sustain so that you can practice prevention measures.
Here are some of the most common foot and ankle injuries in youth sports:
Sprains
Ankle sprains are one of the most common injuries in youth sports. They are especially common in sports like basketball, soccer, or track and field. A sprain occurs when the ligament connecting the bones in your ankle and foot together gets overstretched resulting in a tear.
Stress fractures
Stress fractures are extremely common in youth sports involving running, jumping, or other repetitive movements involving the foot and ankle. A stress fracture is a small crack or break in the bones of your foot or ankle and can be very painful. Look out for this injury in sports like basketball, track and field, or gymnastics.
Achilles Tendonitis
The Achilles tendon is the largest tendon in the body found at the back of your ankle connecting the calf muscles to your heel. When this tendon is overused, as is common in youth sports, it can become inflamed resulting in stiffness, swelling, and pain around the affected area.
Plantar Fasciitis
The plantar fascia is a band of connective tissue at the base of your foot spanning from your heel to your toe. This tissue can become inflamed when overused, which is common in sports that involve lots of running like track and field, basketball, soccer, etc.
Fortunately, all of these injuries are preventable if you encourage your child to stretch, wear proper footwear, hydrate, and recognize when to stop due to pain. Depending on the severity of these injuries, they can either be treated at home using the RICE method or by an orthopedic physician. If your child has suffered from a foot or ankle injury, contact Dr. Bryant Ho for his medical expertise today!
Dr. Bryant S. Ho is board-certified in orthopedic surgery and is trained in the operative and non-operative management of adolescent and adult foot and ankle disorders. Dr. Ho places a strong emphasis on customizing his care for each patient to ensure successful outcomes. He provides all treatment options, including preventative care, conservative management, and operative intervention.