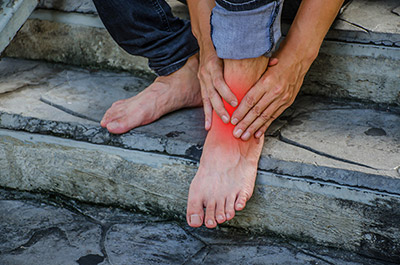 Have you been postponing a visit to your doctor for a chronic foot problem? You could be making your condition worse. Neglecting a nagging foot or ankle pain can have negative effects on other parts of your musculoskeletal system, which is why you shouldn't wait for your foot pain to go away.
If you change the way you walk to try and offload a painful arthritic joint or injury in your foot or ankle, it's going to create imbalance in the stresses acting on your muscles, tendons, ligaments, and bones in your legs, hips and spine potentially leading to knee and hip problems as well as back and neck pain.
The most common causes of foot and ankle pain are strains, sprains, and tears in the tissues of the ankle, foot, and toes. These injuries may occur during sports, accidents, or falls.
You can also injure parts of your foot in less obvious ways over a period of time. Exercising without stretching or warming up properly, or pushing yourself too hard during your workout can lead to painful inflammation in the foot and ankle.
Foot and ankle pain can also be caused by repetitive movements without periods of rest or inactivity. Manual labor jobs that require you to be on your feet all day long can cause such problems.
Arthritis (age related degenerative changes), plantar fasciitis (inflammation of the fibrous bands at the bottom of the foot), tendonitis (inflammation of the thick cords that connect muscle to bone), and bursitis (inflammation of the fluid filled sacs that act as shock absorbers) are common inflammatory conditions of the foot and ankle. Symptoms include localized foot and ankle pain, swelling, and tenderness.
Treating these problems can influence your future mobility and may help prevent degenerative changes in other parts of your musculoskeletal system.
Dr. Ho is a foot and ankle orthopedic specialist who places a strong emphasis on customizing his care for each patient to ensure successful outcomes. He provides all treatment options including preventative care, conservative management and operative intervention. Call (630) 323-6116 to book your appointment.