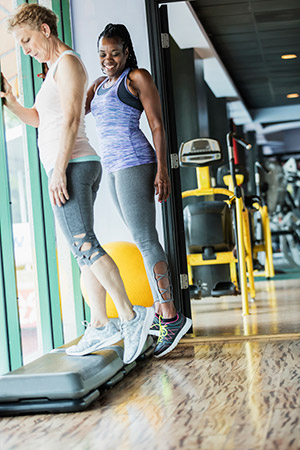 Is improving health and fitness one of the top priorities for the New Year? Your feet and ankles provide the solid foundation for almost any kind of physical activity. Start the year off right with these strengthening exercises:
Heel raises. Stand with feet shoulder width apart. Raise both heels off the floor supporting your entire weight on the balls of your feet. Hold this position for a few seconds and then lower your heels. This exercise strengths your calf muscles as well as your feet and ankles. As your strength improves you can progress to one-legged heel raises supporting your entire body weight on one foot.
Toe raises. From a standing position while holding on to a chair or wall for support, raise the front portion of both feet off the floor. Hold for a few seconds and then return to the starting position. This exercise strengthens the muscles in the front of the shin.
Seated leg extensions: Sit on a sturdy chair. Lift one foot off the floor and straighten the leg. Hold the position for about 2-3 seconds fully contracting the quadriceps muscle in the front of the thigh. Then bring your foot back down.
Leg flexion. Sit at the edge of a chair with both feet side by side on the floor. Slide one foot out in front of the other to extend one leg. Now slowly slide your heel back till your feet are once again in the side-by-side position. This works the hamstrings at the back of the leg.
Chair squat. Stand up straight from a seated position driving your weight through your heels and then sit back down slowly. This is a good exercise that works all the large muscles in the legs.
Do 10-15 repetitions of each exercise 2-3 times a week and in a couple of months you will notice a marked improvement in functional strength of your lower extremities. Regardless of what your fitness goals for the New Year are, a strong pair of legs will help you reach them faster.
Dr. Ho is a foot and ankle orthopedic specialist who places a strong emphasis on customizing his care for each patient to ensure successful outcomes. He provides all treatment options including preventative care, conservative management and operative intervention. Call (630) 323-6116 to book your appointment.