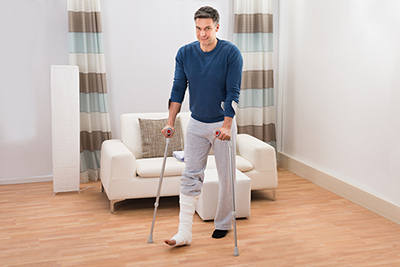 Walking with cast after a foot and ankle injury can be a challenge. It does take some amount of planning, practice, and patience. Here are some practical tips for walking while wearing a cast:
Use the Right Crutches: Buy or borrow crutches that are the appropriate height. When standing, the crutch should be 1-2 inches below your underarm and your elbows should slightly bend when holding the hand grips. The crutch should have extra padding on the top to prevent soreness in the underarm region and rubber tips at the bottom to prevent slipping. Also, wear shoes with non-skid soles while using crutches.
Practice Proper Walking Technique: Most of your bodyweight should rest on your handgrips and not on your underarms. Lean forward and put both crutches about 1 foot ahead of you. Now shift your weight onto the crutches and slowly bring your body and good foot forward. Once your good foot is on the ground, you can move the crutches 1 foot ahead in preparation for the next step. Always look ahead while walking and never at your feet.
Prepare Your Home: Clear a wide path in your home so you can move easily while using crutches. Make sure there a no tripping hazards such as cables, wires, or loose rugs that could increase risk of falls. Keep frequently used items in easy-to-reach locations.
When first walking with a cast it is a good idea to have a friend or family member around to help keep you steady. With just a little practice, you will be able to walk with confidence while wearing your cast as you go about the routine activities of daily living.
Dr. Ho is a foot and ankle orthopedic specialist who places a strong emphasis on customizing his care for each patient to ensure successful outcomes. He provides all treatment options including preventative care, conservative management and operative intervention. Call (630) 323-6116 to book your appointment.