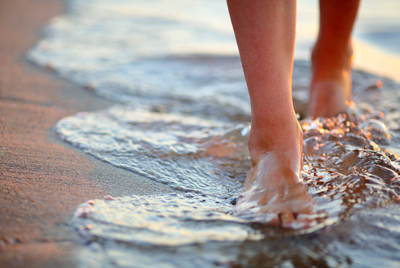 Summer is an excellent time to get on your feet and enjoy the outdoors! But while summer activities may be fun and exciting, they can take a toll on your foot health. It is important to take proper precautions and practice prevention methods to avoid harming your feet.
Here are some tips to maintain your foot health this summer:
Wear Proper Footwear
Summer can be a fashionable time! When you are bringing out your sandals, flats, or heels, make sure to consider your foot health. Many summer shoes can restrict your feet causing tendonitis or blisters, or they provide little to no arch support. So when looking for the perfect summer shoe, opt for decent open-toed shoes with proper arch support to allow circulation while avoiding negative consequences from the heat.
Engage in Foot Exercises
Summer is full of physical activity so before you step outside, make sure to stretch and engage your feet to protect them from damage. Certain exercises such as toe curls, toe spreads, and ankle rotation will help to loosen and strengthen the tendons and ligaments in your foot and ankle.
Hydrate
Drinking water is extremely vital in keeping your body healthy, but did you know it can also benefit your feet? Dehydration can contribute to a variety of health issues including causing swelling in your feet. During the hot summer weather, dehydration is quite common as your body is working to cool you down by expelling sweat. So make sure to drink plenty of water to avoid your feet and ankles from swelling!
Avoid Going Barefoot
Whether you are at the beach, pool, or park, taking your shoes off and going barefoot is a common occurrence during the summer. Unfortunately though, walking barefoot can be damaging to the soles of your feet if your body is used to regularly wearing supportive and cushioning shoes. This is especially true when running on the beach. Not only does the slant of the beach put more stress on one of your feet compared to the other, but running barefoot can shock your soles.
Ultimately, the summer presents lots of opportunities to compromise your foot health. But by engaging in the tips above, you can stay ahead of the damage and keep your feet healthy. If you have other questions concerning your foot health, Dr. Bryant Ho, an orthopedic surgeon at Hinsdale Orthopedics, specializes in foot and ankle and can give you more advice today!
Dr. Bryant S. Ho is board-certified in orthopedic surgery and is trained in the operative and non-operative management of adolescent and adult foot and ankle disorders. Dr. Ho places a strong emphasis on customizing his care for each patient to ensure successful outcomes. He provides all treatment options, including preventative care, conservative management, and operative intervention.