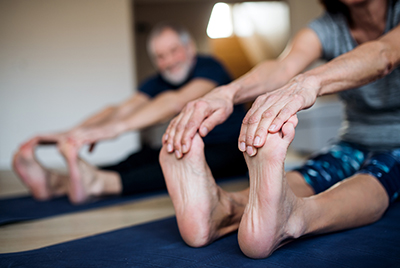 Are you regularly on your feet and find yourself suffering from foot or heel pain? If so, you may be experiencing plantar fasciitis.
The plantar fascia is a ligament found at the sole of your foot, connecting your heel bone to the base of your toes. This structure helps support the arch of your foot and aids in walking. When the plantar fascia becomes inflamed due to excess tension or stress on your feet, this results in plantar fasciitis, the most common cause of heel pain.
Fortunately, there are a variety of treatment options that physicians recommend for those suffering from plantar fasciitis, including:
Stretches: Dedicated plantar fascia stretches completed at the right times during the day are the most important treatment for plantar fasciitis. Ninety percent of patients can have complete resolution of their pain with just plantar fascia stretches.
Physical Therapy: Your physical therapist can help you get a deeper and more effective stretch. They can also help improve any stiffness and weakness that can occur due to pain.
Medication: Nonsteroidal anti-inflammatory drugs (NSAIDs) can help to relieve pain and lower inflammation of the plantar fascia. It is important to note that medication is often paired with other treatment options.
Steroid Injections: If other conservative treatments fail to alleviate symptoms of plantar fasciitis, steroid injections may be recommended. These injections will work to lower inflammation and subdue the pain.
Surgery: Surgery for plantar fasciitis is often the last resort and is only used when patients have failed to respond to other treatments. This surgery is called gastrocnemius release and involves an extension of part of the Achilles tendon. Since the Achilles tendon and plantar fascia are known to be closely connected, this surgery has been shown to provide relief of plantar fasciitis.
Although there are extensive treatments for plantar fasciitis, you can still try to avoid this painful condition by engaging in prevention measures. Here are some of the most highly recommended prevention tips:
Wear proper footwear: Improper shoes are the source of many foot problems, including plantar fasciitis. Look for a shoe with adequate arch support and cushioning so that you can keep your plantar fascia healthy.
Ease into working out: Don't jump in feet first if you are starting a new workout routine.
When you have a sudden spike in physical activity, your body and feet don't have time to adjust. So take it easy and allow time for your feet to become accustomed to this change in activity.
Maintain a healthy weight: Excess weight can put additional stress on your feet, causing the plantar fascia to become inflamed.
Don't forget to stretch: When your plantar fascia is tight, it is more prone to inflammation or injury. So before and after any workout or physical activity, make sure to stretch out your feet.
There are a variety of ways to treat and prevent plantar fasciitis. If you or a loved one are suffering from plantar fasciitis, contact Dr. Bryant Ho for his excellent medical care!
Dr. Bryant S. Ho is board-certified in orthopedic surgery and is trained in the operative and non-operative management of adolescent and adult foot and ankle disorders. Dr. Ho places a strong emphasis on customizing his care for each patient to ensure successful outcomes. He provides all treatment options, including preventative care, conservative management, and operative intervention.